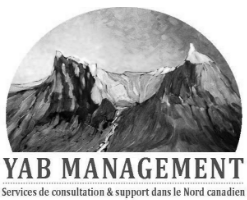 LOGO – BRANDING – VISUAL IDENTITY
Created in 2002, YAB Managementis is located in Saint-Adolphe-d'Howard (Québec), in Rankin Inlet (Nunavut) and one in La Sarre (Québec). YAB Management offers social projects in Whapmagoostui / Kuujjuarapik. From their 20 anniversary, they helped people from  Nunavut, Nunavik and the Cris population.

They wanted a visual for a new branch their were developing.